by Dr Jenny Barrett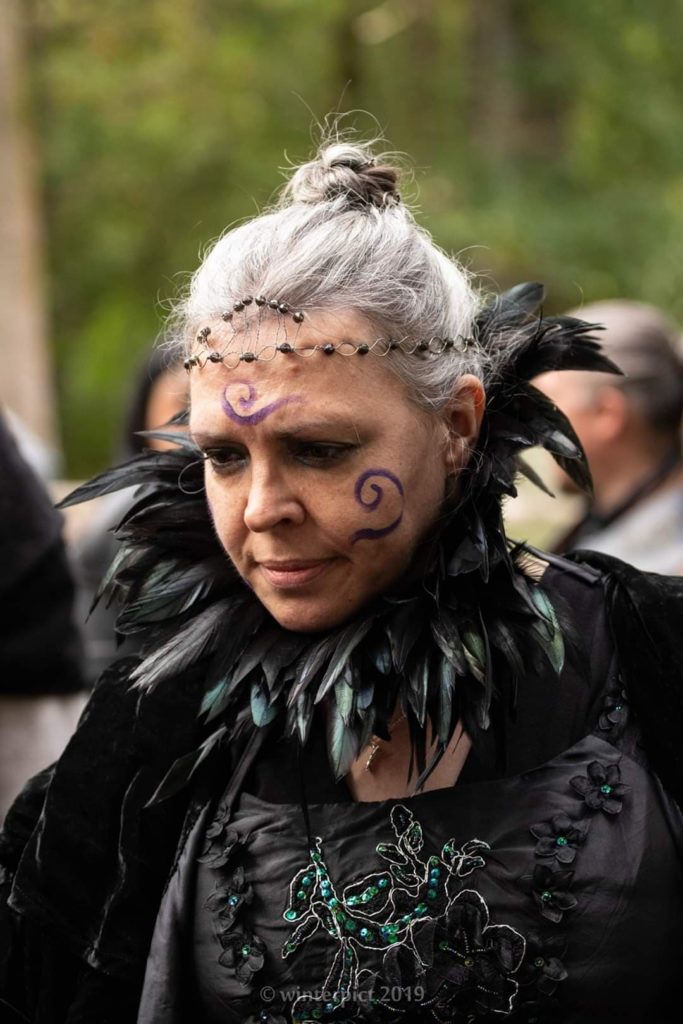 Jenny has played and volunteered in three roleplay systems since 2001, from a cop to a queen to a goblin. She regularly admits that it's the dressing-up that she loves and always manages to forget the rules.
Who am I to talk about LARP and Cultural Capital?
My personal perspective on LARP as a cultural experience is informed both by my professional background (I am an academic working in the humanities), and my own background. To give you a picture, I finished my PhD around 17 years ago, and I'm now a Reader in Film and Popular Culture. Before I entered academic life, I worked mainly in the charitable sector. I enjoy working with ideas as well as people, I'm a creative writer myself, and I love stories both personally and professionally. I also come from what I suppose would be described as a religious background, growing up in a close spiritual community, and although my worldview has changed substantially since my childhood, I continue to hold certain values dear, particularly about accepting others, encouraging fairness and equal participation. So, adding to this my professional perspective, I'm convinced that LARP is another close community where we can find elements that could be described as 'cultural capital.'
I got into LARPing many years ago with my partner, and as soon as I heard about the way LARP works, that it engages this passion for stories, I was hooked. The idea that you can not only read, but be another character and wear different costumes to be who you are not, or perhaps who you could be – that just drew me in.
I've found many LARPers, like me, are great lovers of stories. Stories can tell us something about the lives we are living, no matter how fantastical or implausible the tale. Quite often the truth in those stories, however, is biased towards a particular ideology or worldview. As LARP is another way of engaging with stories and storytelling, I think we can learn a lot by applying some critical distance to these stories we live out in LARP events.
What is Cultural Capital?
Anyone else out there with a humanities background will know that many of our perspectives on how societies work has a debt to the writings of Karl Marx. Marx wrote about and encouraged us to become aware of 'capital' as a concept representing (economic) assets in private ownership and a means of exchange. This concept offers a way of understanding our social structure and highlights there are a set of relations between ownership, power and control in the production of goods and wealth. Cultural Capital, an extension of Marx's idea, is a concept attributed to the sociologist Pierre Bourdieu, who extended this idea to consider things that were not material assets. Instead social and cultural capital are noneconomic characteristics. They are symbolic or embodied assets that someone may benefit from 'owning'. Cultural capital may include things like our language or power over language, our education, lifestyle or habits; to name only a few. It includes the type of art, music or pastimes we enjoy and, importantly, how those things are regarded by others. And this capital is produced and reproduced socially within groups of people who tend to identify together – a family, a community, a nation and so forth.
Economic and cultural capital are often related. Those who have a lot of economic capital (mainly in the form of wealth), often also have certain cultural activities that they value or hold dear. These 'tastes' are often dictated by the social 'class' with the most advantage, identifying what is deemed to be valuable in the arts or culture. This creates divisions between 'high' arts and 'low' arts, or 'high' and 'popular' culture.
This hierarchy occurs across a society, but cultural capital is also distinct and identifiable within social sub-groups, such as the Punk movement in the 1970s or other underground music scenes that have helped to define a generation's identity in contrast to the mainstream. These groups can resist the dictation of 'tasteful' art from the majority by performance and display of radically different forms of 'taste'. In doing so, these displays emphasise a shared identity and shared values, establishing a shared community.
Economic, social and cultural capital intersect, so people can climb the social ladder more quickly if they have economic capital. They can buy tickets to exclusive events for celebrities, for example. But cultural capital can also affect social position, where performers in the arts or highly educated individuals might also gain prestige and invitations to such events without having the wealth to access them otherwise.
Is LARP 'tasteful' art or culture?
So, in the UK context, in the context of my experience, LARP is often regarded as 'low' culture or even a counterculture. In some ways it also resembles popular culture in recent years, as it increasingly draws on movies, books and other cultural influences which, along with other 'geek' material, have become more mainstream. Many of us will be aware that J.R.R. Tolkien's novels have influenced fantasy genre LARPs, but the release of The Lord of the Rings movies and associated paraphernalia have made it even more broadly popular. Likewise, the Harry Potter movies introduced an entire generation to the 'glamour' of being witches and wizards. Nonetheless, in the cultural hierarchy of UK arts, LARP would be rated quite low.
For those of us for whom this is our favourite hobby, perhaps as players, perhaps as volunteers, writers, referees, caterers and more, LARP is our cultural capital along with its multifarious cultural and literary influences. We accept each other's passion for LARP whereas others, those who don't value it culturally, would not admire it.
"Yes, I'm a nerd. I do live-action roleplay and I don't care who knows it!"
There is a common identity people claim in UK LARP culture, many openly putting up their hands and proudly admitting to be nerds. This acknowledgement challenges social norms and highlights the position of LARP at the bottom of the cultural hierarchy.
As a 'low' form of culture or art, UK LARP does not fit the category of 'tasteful' leisure or valuable cultural activity. But it's interesting to explore how this might be changing and how. Developments of closely related cultural leisure activities in popular culture which focus on experiential products (such as escape rooms, Secret Cinema and the like) show an increasing monetisation of similar cultural products. This bringing together of economic and cultural capital may impact UK LARP and ensure it remains 'poor taste', or in contrast, the merging of new virtual games with professional theatrical experiences enjoyed by 'the great and the good' may elevate the hobby.
How does this concept help us think about how we LARP?
Imagine a new player, one who has enjoyed fantasy computer games and stories for years. Their first experience of LARP may be when they arrive and discover that the other people involved are familiar with and value the same stories and have the same cultural touchstones as they do. This gives a sudden feeling of acceptance, especially where these stories and activities have been devalued or disrespected by others.
Over time, you play the game, you come along, you get to know people. As you do, symbols and different elements of the game become apparent as they learn the things that are held in higher esteem than others. This manifests in a valuing of different 'play styles', such as a character-orientation or a gamist-orientation. Even within the LARP community, then, there are different kinds of cultural capital, and that capital is incredibly varied.
Examples of the type of cultural capital LARPers might utilise in the field include; knowledge of folklore or historical storytelling traditions, storytelling skills such as imagination or public speaking, theatrical skills in delivery and performance, ecological knowledge or outdoor skills, imagination and creativity – as well as experience and skills in costuming, prop-making, bodypainting, combat or martial arts, to name only a few.
Now LARP is not a cheap hobby. You could get by with one sword, a good pair of boots and something waterproof which could be enough for years of play. But there is a culture of wanting more that it's easy to get caught up in, and this requires economic capital to spend. So you end up with a new social hierarchy, where some people have incredible costumes, custom-made masks and armour costing hundreds of pounds which is valued highly. And it's a challenge to be critical or wary of this, which mirrors an almost 'pay to win' ethical concern about the status these players are given. One way of being wary of this is by instead valuing the use of personal creativity in costuming and doing more to recognise the makers of costumes than their wearers. To have a cool costume is great, but to make a cool costume is also impressive.
In the LARP field there are many social hierarchies. In bald terms, I suppose, we can see these as chains of popularity and they may be linked to the display of economic capital as much as being charismatic or having an intricate understanding of the rules. None of these are inherently bad of course but, I confess, I often find myself gravitating to the newer players, where the thrill of entering such an exciting world is still vivid and the social hierarchies are yet to impact on their game. LARP forms an amazing community, because we come together with a shared passion for storytelling, playing and enjoying those stories for lots of different personal reasons. But I feel it's good to acknowledge that it's not always the perfect inclusive community we might imagine or remember it to be. There is a need to work hard to ensure the welcome often expressed to new players is continued and extended to fellow participants throughout their experience. None of us want to re-live the experience of being the child who doesn't get chosen to join in team sports – whether that is through skill, popularity, or having the 'right' equipment. Roleplaying is a community game and maybe we will all find it enriching to recognise that we have a shared responsibility to make sure that game can involve everyone who wants to play.
Photo credit: Kren Cooper